Women's INITIATIVES at fg
Flaster Greenberg's Women's Initiative is a forum with the mission of promoting our women attorneys to the highest levels of business development, professional growth and personal satisfaction.
Recently, the firm focused on expanding the efforts of the Women's Initiative consistent with its mission. The consensus was that the best way to achieve this was to increase active participation in the Initiative and use it to provide opportunities for our women attorneys to make the most of our resources in developing career goals.
Designed by and for our women attorneys, this program brings together women from across the firm to:
Exchange ideas
Foster internal relationships
Expand business contacts
Build leadership and rainmaking skills
Develop, expand and manage client relationships
Train and mentor our young women attorneys in the courtroom and in the boardroom
Bring to light the obstacles that women in the legal industry face and offer practical advice and work on solutions
Identify ways to harmonize the demands of law practice and full-time lives
Each of Flaster Greenberg's women attorneys takes pride in her ability to provide exceptional service and outstanding results for our clients. But our women attorneys also take pride in being a team. To help our women attorneys achieve balance among all of life's varied demands, the Women's Initiative provides a forum to raise the issues we face, develop solutions, provide support and strengthen our ability to achieve career success. We work to overcome statistics for women in the law, and provide a support network to help our women attorneys so that we can remove the glass ceiling and no one has to break it.
women's history month
In honor of Women's History Month, we wanted to acknowledge some of the amazing women here at FG. The value they bring to the firm, our clients and the community is remarkable, and we are proud to have them on our team!
MEET COURTNEY E. DOLAWAY
"Women have made significant strides not only in the
workplace but also within their family units. By recognizing women's accomplishments and resiliency, women and girls dream bigger and believe, rightly, that anything is possible. The glass ceiling is being picked apart piece by piece and that must continue. We can't forget the past, we all must learn from it."
Courtney Dolaway is a shareholder and member of the firm's Trusts & Estates, Taxation, and Business & Corporate Departments focusing her practice on estate planning, estate administration, business succession, and general corporate matters. She also serves as chair of the firm's Women's Initiative Committee.
A graduate of Washington and Lee University with a double major in math and politics, Courtney received her J.D. and LL.M. with a focus on estate planning from Villanova University Charles Widger Law School.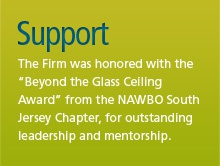 News
Press Release

(March 29, 2019)

Press Release

(March 28, 2019)

Press Release

(January 10, 2019)

Press Release

(October 2, 2018)

Article

(July 9, 2018)

The New York Times

(June 8, 2018)

Press Release

(February 16, 2018)

Press Release

(May 25, 2017)

Press Release

(January 31, 2017)

(January 9, 2017)

South Jersey Biz

(June 6, 2016)

Press Release

(April 27, 2016)

Press Release

(August 27, 2015)

Press Release

(May 14, 2015)

Press Release

(January 16, 2014)

Press Release

(October 26, 2012)

Press Release

(April 18, 2012)
Articles
New Jersey Law Journal

(November 2, 2018)

Philadelphia Bar Reporter

(April 2016)

New Jersey Law Journal

(November 3, 2003)