Women's INITIATIVES at fg
Flaster Greenberg's Women's Initiative is a forum with the mission of promoting our women attorneys to the highest levels of business development, professional growth and personal satisfaction.
Recently, the firm focused on expanding the efforts of the Women's Initiative consistent with its mission. The consensus was that the best way to achieve this was to increase active participation in the Initiative and use it to provide opportunities for our women attorneys to make the most of our resources in developing career goals.
Designed by and for our women attorneys, this program brings together women from across the firm to:
Exchange ideas
Foster internal relationships
Expand business contacts
Build leadership and rainmaking skills
Develop, expand and manage client relationships
Train and mentor our young women attorneys in the courtroom and in the boardroom
Bring to light the obstacles that women in the legal industry face and offer practical advice and work on solutions
Identify ways to harmonize the demands of law practice and full-time lives
Each of Flaster Greenberg's women attorneys takes pride in her ability to provide exceptional service and outstanding results for our clients. But our women attorneys also take pride in being a team. To help our women attorneys achieve balance among all of life's varied demands, the Women's Initiative provides a forum to raise the issues we face, develop solutions, provide support and strengthen our ability to achieve career success. We work to overcome statistics for women in the law, and provide a support network to help our women attorneys so that we can remove the glass ceiling and no one has to break it.
women's history month
In honor of Women's History Month this year, we wanted to acknowledge some of the amazing women here at FG. The value they bring to the firm, our clients and the community is remarkable, and we are proud to have them on our team!
MEET KAREN L. ROBERTS
What woman most inspires you and why?
My mother is my greatest inspiration. As a single mother, she represented a woman with tenacity, strong work ethic, and loving heart. She instilled lifelong values in me that I live by – be strong, be yourself, and be the best you can be.
How does the 2019 International Women's Month theme "Think equal, build smart, innovate for change" inspire your outlook on women's contribution to business and/or society?
This year's theme offers an inspiring outlook on women's contribution to business and society as we continue to advance our careers through our accomplishments and successes; our innovative thinking; and our ability to promote a more inclusive environment in the workplace. Leading by example, we set a path for others to follow that will lead to equality, strong supportive networks, and preparation for ever-changing, ever-evolving personal and professional growth.
Karen Roberts, SHRM-SCP, joined the FG team in 2008 and serve's as the firm's Director of Human Resources. She manages all human resources functions within the firm, including employee relations and retention, benefits and compensation, employment, planning and policy implementation and new employee orientation. She additionally manages lateral attorney and law student recruitment activities.
MEET ALMA L. SARAVIA
What woman most inspires you and why?
Hillary Clinton (brilliant and tenacious – I have met her several times)
Is/was there a certain woman in your life that played a major role in shaping your career path?
My mother, Viola G. Kaipainen, the Former Director of the South Jersey ACLU and Senator Wynona Lipman, the first African American female Senator in New Jersey.
Do you have any advice for young women looking to succeed in the workplace?
Be your best advocate. Be confident and talk yourself up!
Alma Saravia joined the FG team in 1999 and is a shareholder in the Healthcare, Cannabis Law, Government Relations, Litigation and Business & Corporate departments. She is highly regarded in the field of healthcare law and is working actively alongside government officials to shape several aspects of New Jersey's proposed adult-use cannabis bill and the amended Compassionate Use Medical Marijuana Act.
Do you have any advice for young women looking to succeed in the workplace?
Love yourself and who you are first. Everything else will follow.
Renee Vidal recently celebrated her ten year anniversary at Flaster Greenberg. Throughout her career, she has helped numerous business owners, professionals and families structure their estates and assets to preserve wealth and minimize tax exposure. In her corporate practice, she represents clients throughout the region in business and transactional matters, and she's known for her commitment to business growth and dedication to community organizations.
MEET COURTNEY E. DOLAWAY
What woman most inspires you and why?
It may be cliché, but I would say that the woman that inspires me the most is my mother. She instilled in me strong values, a passion for learning, and an unwavering work ethic. Within the legal community, I would say Ruth Bader Ginsberg. While we have some different ideologies, she was such a trailblazer not only for women in the legal field, but also for women's rights in general.
Do you have any advice for young women looking to succeed in the workplace?
My advice to young women looking to succeed in the workplace would be to advocate for yourself! Opportunities rarely fall in your lap. You need to fight for yourself, because if you don't, nobody will. In addition, try to find a mentor. You'll find that most successful people partially attribute their success to a mentor. A good mentor will help you grow in your career, not only from a knowledge prospective, but also with career advancement.
Courtney Dolaway joined the Flaster Greenberg team in 2018 as a member of the Trusts & Estates, Taxation, and Business & Corporate Departments. She focuses her practice on estate planning, estate administration, business succession, and general corporate matters.
A graduate of Washington and Lee University with a double major in math and politics, Courtney received her J.D. and LL.M. with a focus on estate planning from Villanova University Charles Widger Law School.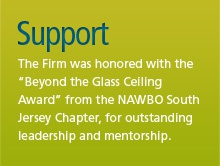 News
Press Release

(March 29, 2019)

Press Release

(March 28, 2019)

Press Release

(January 10, 2019)

Press Release

(October 2, 2018)

Article

(July 9, 2018)

The New York Times

(June 8, 2018)

Press Release

(February 16, 2018)

Press Release

(May 25, 2017)

Press Release

(January 31, 2017)

(January 9, 2017)

South Jersey Biz

(June 6, 2016)

Press Release

(April 27, 2016)

Press Release

(August 27, 2015)

Press Release

(May 14, 2015)

Press Release

(January 16, 2014)

Press Release

(October 26, 2012)

Press Release

(April 18, 2012)
Articles
New Jersey Law Journal

(November 2, 2018)

Philadelphia Bar Reporter

(April 2016)

New Jersey Law Journal

(November 3, 2003)