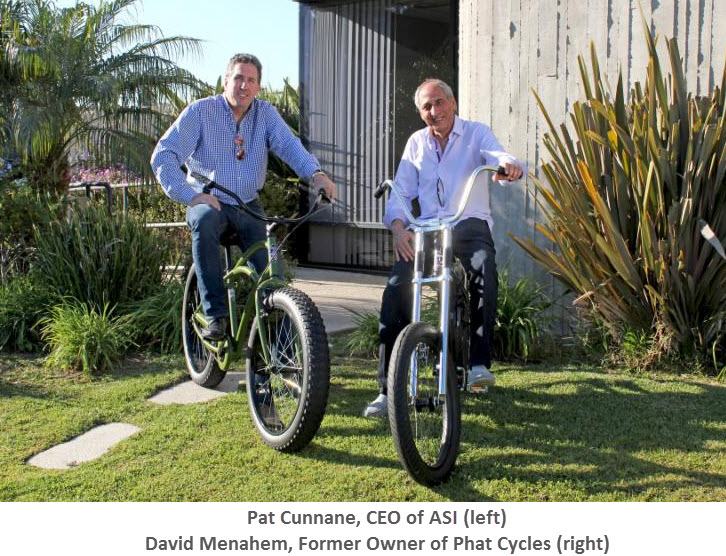 In February of 2015, Advanced Sports, Inc. (ASI), a privately held corporation located in Philadelphia, Pennsylvania that designs and distributes a full line of premium bicycles and accessories, looked to Flaster Greenberg attorneys for help in acquiring Phat Cycles, a well-known beach cruiser brand located in California. Flaster Greenberg's goal-focused approach and expertise in the areas of corporate finance and management, intellectual property, insurance, labor & employment and real estate law, were instrumental in the seamless acquisition of the business in a complex deal with a tight deadline.
Flaster Greenberg provides a variety of strategic corporate and intellectual property legal services to ASI, a global company that has more than 80 distributors around the world with brands including Fuji, Kestrel, Breezer, SE, Oval Concepts, and now Phat Cyles.
From providing general business advice to supporting the company's marketing and distribution efforts, the Flaster Greenberg team of corporate and IP attorneys have been influential in the growth of ASI's domestic and international distribution. In addition, our attorneys handle ASI's intellectual property issues, including managing ASI trademark portfolio and providing patent and trademark clearance for new products.
"The world of specialty bicycles is not easy to understand nor is it intuitive, and the team at Flaster Greenberg has been able to wade right in, learn about our business and offer us advice and solutions that make sense," said Karen Bliss, ASI's vice president of marketing. "Flaster Greenberg's understanding of our business, coupled with their full-service approach to projects, made it easy for us to rely on their attorneys for the acquisition."
The Flaster Greenberg team is heavily involved in the company's branding strategy under its well-known brand names (Fuji, Kestrel, Breezer, SE, Oval Concepts, and Phat Cycles) and also for its new product introductions (TransonicTM, Norcom StraightTM, Gran FondoTM, AltamiraTM).
Our attorneys also draft and implement sponsorship contracts with various professional cycling teams, including agreements with UCI-registered teams Caja Rural-Seguros RGA of Pamplona, Spain and Team Tibco - SVB of Pescadero, CA.
In August of 2016, Flaster Greenberg attorneys represented ASI in its merger with Performance Inc., the largest retailer of bicycles in the United States, while simultaneously closing a new credit facility for the combined entity with Wells Fargo. The value of the transaction was in excess of $400 million.