| Press Release
Cherry Hill, NJ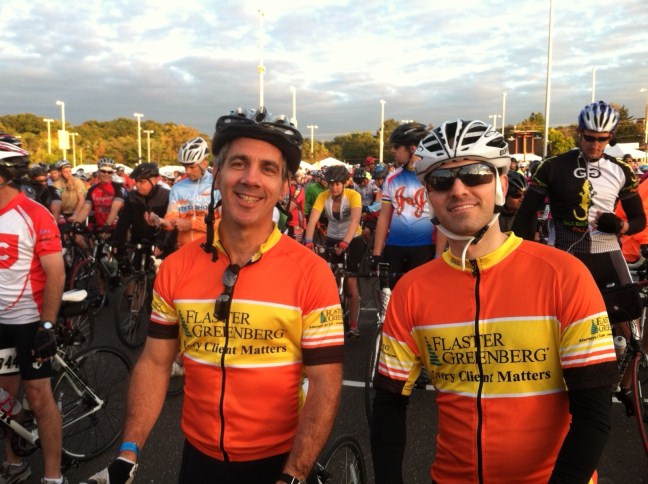 Last weekend over 7,000 cyclists of all ages and cycling abilities participated in the Bike MS: City to Shore Ride to support those affected and indirectly affected with multiple sclerosis. The massive two-day event, named by Bicycling Magazine as the "Best Cycling Getaway in NJ", is expected to raise at least $5.6 million for the neurological disease.
This year, Team Flaster Greenberg raised $2,870 for multiple sclerosis research. Pictured above are the members of the Flaster Greenberg Team: (L-R) Michael Homans and Justin Brown (Team Captain).
Brown was recently nominated to Philadelphia's MS Leadership Class, a group of upwardly mobile business professionals in the greater Philadelphia region who want to make a difference in their community by undertaking a fundraising campaign to benefit local people living with multiple sclerosis. He also serves on the organizations Legal Services Steering Committee, where he helps provide pro bono legal services to those affected by multiple sclerosis in the Philadelphia community. For more information on the chapter's upcoming November 2, 2013 MS Legal and Financial Clinic, click here.
If you are interested donating on behalf of the Flaster Greenberg team and its riders in helping Bike MS surpass their $5.6 million fundraising goal by the October 31st deadline, click here.