| Press Release
Cherry Hill, NJ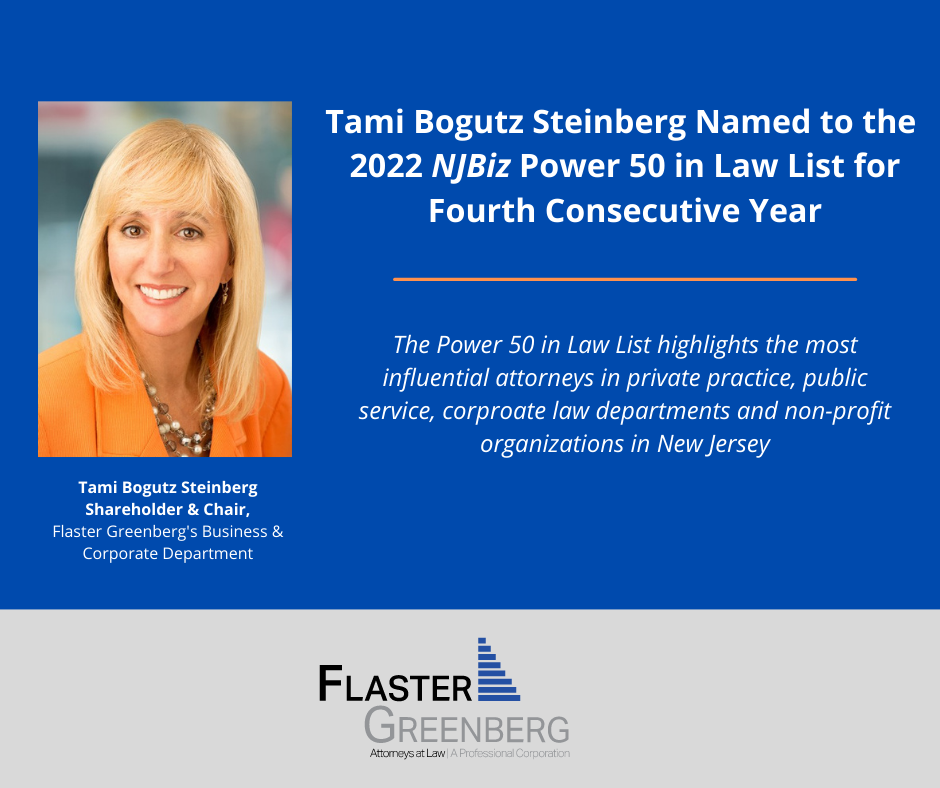 Flaster Greenberg Shareholder Tami Bogutz Steinberg has been named to the 2022 Power 50 in Lawlist by NJBIZ for the fourth year in a row. The annual list highlights the 50 most influential attorneys in private practice, public service, corporate law departments and nonprofit organizations in the state of New Jersey.
Steinberg is Chair of Flaster Greenberg's Business & Corporate Department and a member of the firm's Board of Directors. For over 30 years, scores of business owners, entrepreneurs and closely held businesses across a wide range of industries have turned to Tami as their trusted legal advisor. She is known as one of South Jersey and Philadelphia's leading business and corporate attorneys. She represents businesses in all stages of their business life cycle, from formation through dissolution or sale. Her practice encompasses mergers and acquisitions, financings, joint ventures, partnership and shareholder transactions, contracting, dispute resolutions, corporate governance and private placements. Steinberg also serves as Chair of the firm's Gaming Industry Group, primarily representing casino developers and operators, as well as online sports and gaming entrepreneurs.
Visit the NJBIZ website to learn more about the 2022 Law Power 50 and to view the full list of honorees.