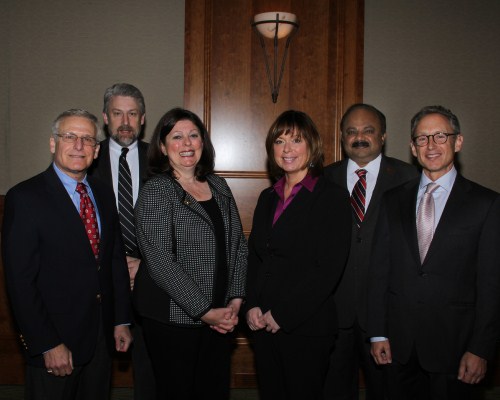 On Wednesday, May 1, 2013 the Rutgers Business Outlook featured panelists who provided their insights on the state of the retail and risk management insurance industries and the overall regional economy. The panel provided industry forecasts to a crowd of approximately 100 South Jersey business professionals at the spring economic forum, which was held at the Rutgers-Camden Campus.
The Rutgers Business Outlook is a great opportunity to network with business leaders, see friends and gain valuable insights into what is happening in our region. Flaster Greenberg PC has sponsored the Rutgers Business Outlook for the past 14 years, which is held in conjunction with the Chamber of Commerce Southern New Jersey and Rutgers University School of Business–Camden, the presenting sponsor for the series.
Participating panel members and moderators are (from left): Dr. Joel Naroff, President and Founder, Naroff Economic Advisors; Mark S. Roderick, Shareholder, Business & Corporate Department and Taxation Practice Group, Flaster Greenberg PC; Debra P. DiLorenzo. President & CEO Chamber of Commerce Southern New Jersey; Alice Niles, President of Insurance Operations, A.P. Orleans Risk Management, LLC; Dr. Jai Ganesh, Dean, Rutgers School of Business–Camden; and Jim Riesenbach, Chief Executive Officer, WirelessWERX, Inc.
To view the video of the May 2013 Rutgers Business Outlook, or to listen to the podcast, click here.