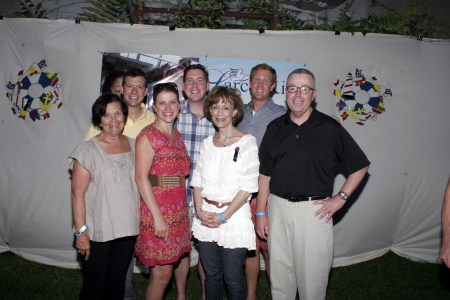 On Saturday, September 8, 2012, Flaster Greenberg was a proud sponsor of the Camden County Bar Association's 3rd Annual Lobster Bake, which took place at the TapRoom in Westmont, New Jersey. Over $10,000 was raised at this event to benefit the Young Lawyer LARC School Scholarship Fund administered through the Camden County Bar Foundation.
LARC is a non-profit special education school serving disabled individuals ranging from ages 3 to 21. They strive to meet the needs of all students and young adults with varying disabilities in a dignified manner by providing opportunities for growth, development and most important, independence.
Pictured above are the members of the planning committee and special guests. (L-R) LARC School Trustee Jones, Adam Gersh, Rachael Licausi, Mike Dennin, LARC School Executive Director Susan Weiner, Mike Madden, and LARC School Trustee Jim Rhodes.
To view the photo gallery from this event, please click here.