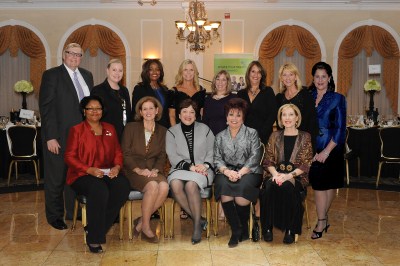 Flaster Greenberg has been selected to receive the 2012 Environmental Advocate of the Year award by the South Jersey Chapter of the National Association of Women Business Owners (NAWBOSJ). The Firm was honored at NAWBOSJ's 9th Annual Glass Ceiling Awards Dinner on November 15, which was hosted by Lynn Doyle, of "It's Your Call With Lynn Doyle," a multi award-winning journalist, and a nine-time Emmy recipient.
Since 2003, NAWBOSJ has presented this award to the company in South Jersey that has made an impact on current environmental issues, either through public policy or green initiatives. Earlier this year, Flaster Greenberg installed a level two electric car charging station in the Firm's Cherry Hill office parking lot. The Firm was the first professional corporation in Cherry Hill to offer an electric vehicle curb-side charging station free to both its employees and clients.
The 2012 Environmental Advocate of the Year award adds to several other environmental recognitions Flaster Greenberg has received for our green-energy initiatives. Most recently, the Firm was featured in the April 2012 issue of South Jersey Biz magazine for being voted as one of South Jersey's most green and eco-friendly companies and honored in the publication's 2012 Green Awards. Additionally, Flaster Greenberg was featured on NBC10 and made the front page of the Courier-Post for their eco-friendly approach to green energy initiatives.
In addition to the car charging station, Flaster Greenberg has adopted several energy efficient amenities in an effort to help improve the environment. In January 2012, a year-long construction project was completed in Firm's Cherry Hill office, installing motion sensor light switches, energy efficient light bulbs and wallpaper made from recycled materials. Also, all cleaning products used in Flaster Greenberg's five office locations are green seal certified and the Firm recycles all of its metal, plastic and paper waste.
Pictured above are the NAWBOSJ Glass Ceiling award winners and host.
Top Row L-R: Peter Spirgel, Flaster Greenberg PC; Kelly Adams, Vir Tu; Brenda Ross-Dulan, Wells Fargo; Lynn Doyle, "It's Your Call with Lynn Doyle"; Lynne Pechinski, 1st Straw Marketing; Diane Druss, Girlfriendz magazine; Lynn Bardowski, Party Lite.
Bottom Row L-R: Jennifer Young ,Verizon; Mimi Box, Jon Bon Jovi Soul Foundation; Emily Gottschalk, Garr Group; Cathi Rendfrey, Women's Opportunity Center; and Tobi Schwartz-Cassel, Girlfriendz magazine.

x
flaster-media/NBC%2010%20Clip/NBC%2010%20Clip.mp4