| Press Release
Cherry Hill, NJ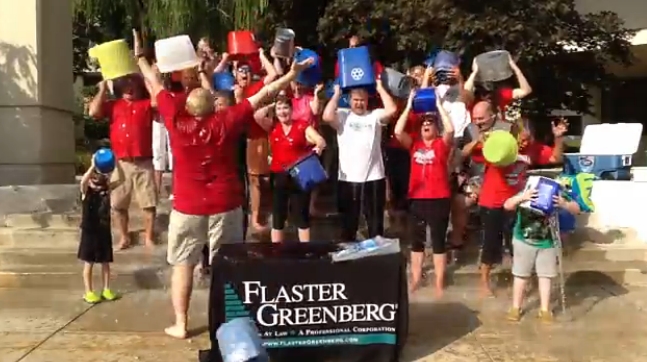 Peter Spirgel, Managing Shareholder at Flaster Greenberg, was recently nominated to participate in the "Ice Bucket Challenge" to raise money and awareness for ALS. The Ice Bucket Challenge took place in the firm's Cherry Hill office parking lot on Tuesday, August 19, 2014, raising hundreds of dollars for ALS research.
"I've recruited members of our Firm to do this challenge with me because most of our employees here know or has known a family member, friend or client who has suffered from ALS," said Spirgel. "There are 15 new cases reported in the U.S. each day and with every dollar donated to the ALS Association, we are helping them find causes, treatment and a cure for Lou Gehrig's Disease. Currently, there is no cure."
In return, Spirgel nominated Flaster Greenberg's Philadelphia office and the staff of The Legal Intelligencer to not only contribute money to ALS, but to also partake in the ALS Ice Bucket Challenge.
To view the video of Flaster Greenberg's ALS Ice Bucket Challenge, click here.