Chamber of Commerce Southern New Jersey, Flaster Greenberg PC, Archer & Greiner PC, CohnReznick, Curaleaf, New Jersey Cannabusiness Association
March 6, 2019
Flaster Greenberg is proud to co-sponsor this CCSNJ program. For more information or to register, click here.
With the support of Governor Murphy and many state policymakers, legal marijuana will soon be a reality in New Jersey. Join us to hear from experts in this developing industry on the latest news regarding the legalization of recreational marijuana, as well as the recently expanded medicinal marijuana program in New Jersey and its long-term implications for the state. Legal and taxation experts will also weigh in on the regulatory process, taxation considerations, and employer rights.
Date and Time
Wednesday, March 6, 2019
8:00 a.m. - 10:30 a.m.
Location
The Westin Mount Laurel
555 Fellowship Road
Mount Laurel, NJ 08054
Speakers
Scott Rudder
President, New Jersey Cannabusiness Association
William J. Caruso, Esq.
Partner, Archer & Greiner, PC
Adam E. Gersh, Esq.
Shareholder, Flaster Greenberg PC
Alma L. Saravia, Esq.
Shareholder, Flaster Greenberg PC
Mary Amato, CPA
Partner, CohnReznick
George Schidlovsky
President, Curaleaf New Jersey, Inc.
Pricing
$25 pre-registered CCSNJ Members
$35 late registration (after March 1)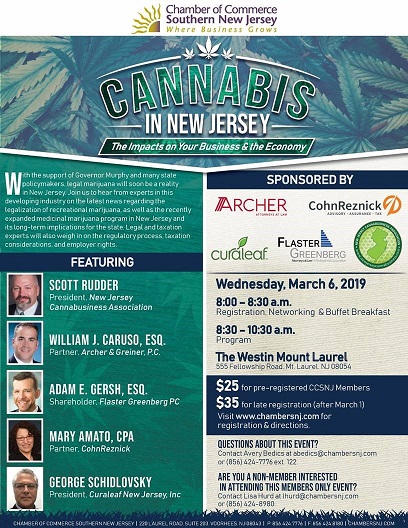 Practice Areas