Rutgers School of Business-Camden, Chamber of Commerce Southern New Jersey, Flaster/Greenberg
January 26, 2012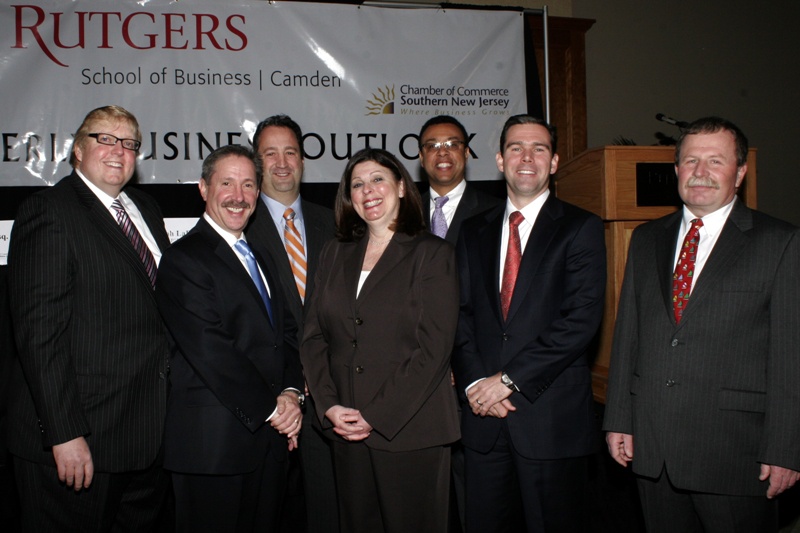 On Thursday, January 26, 2012, the Quarterly Business Outlook shifted its focus—and location. Highlighting the state of renewable energy in New Jersey, the economic forum drew more than 200 attendees to the Camden Campus of Rutgers University. On hand were several of South Jersey's leaders in the green energy industry who offered their insights on how far our state has come, where we are now, and where we're headed.
Participating panel members and moderators are (from left): Peter Spirgel, Managing Shareholder and COO, Flaster Greenberg PC; Mitchell Cohen, Counsel and Co-chair, Alternative & Renewable Energy Industry Group, Flaster/Greenberg PC; Ralph LaRossa, President and COO, Public Service Enterprise Group Inc.; Debra DiLorenzo, President and CEO, Chamber of Commerce Southern New Jersey; Wendell Pritchett, Chancellor, Rutgers–Camden; Michael Flett, CEO and President, Flett Exchange LLC; and Dr. Richard A. Michelfelder, Clinical Associate Professor, Rutgers School of Business–Camden.
Flaster Greenberg PC has sponsored the quarterly forum for the past 13 years, which is held in conjunction with the Chamber of Commerce Southern New Jersey and Rutgers University School of Business–Camden, the presenting sponsor for the series.