Flaster Greenberg, White Penny, CCSNJ
Flaster Greenberg PC is proud to sponsor the Chamber of Commerce Southern New Jersey's Family-Owned Business Council in partnership with Whitepenny.
The Family-Owned Business Council is comprised of family-owned businesses whose members share best practices and collaborate on issues unique to multi-generational businesses.
Panel Members:
Moderated by:
Mariel Giletto, Shareholder, Flaster Greenberg PC
Travis Coley, Managing Director, Whitepenny
Speakers:
Kim Andreola, Chief of Staff for the President and COO, Holman
Hala Shawaf Barson, CEO, VoIP Doctors Business Telecommunications
Carol Sue Bernardo, CEO, Xerimis
Mari Edmund, Chief Global Marketing & Sales Officer, Edmund Optics Inc.
Christen Martorana, Owner and President, Moyer Aviation Inc.
Date & Time:
Monday, April 3, 2023
11:30 a.m. - 12:00 p.m. Registration, Networking & Lunch Buffet
12:00 - 1:30 p.m. Panel/audience discussion
Location:
Holman
4001 Leadenhall Rd.
Mount Laurel, NJ 08054
RSVP:
If you are interested in registering for this event, please email Meredith Lorrilliere at mlorrilliere@chambersnj.com or visit the CCSNJ website by clicking here.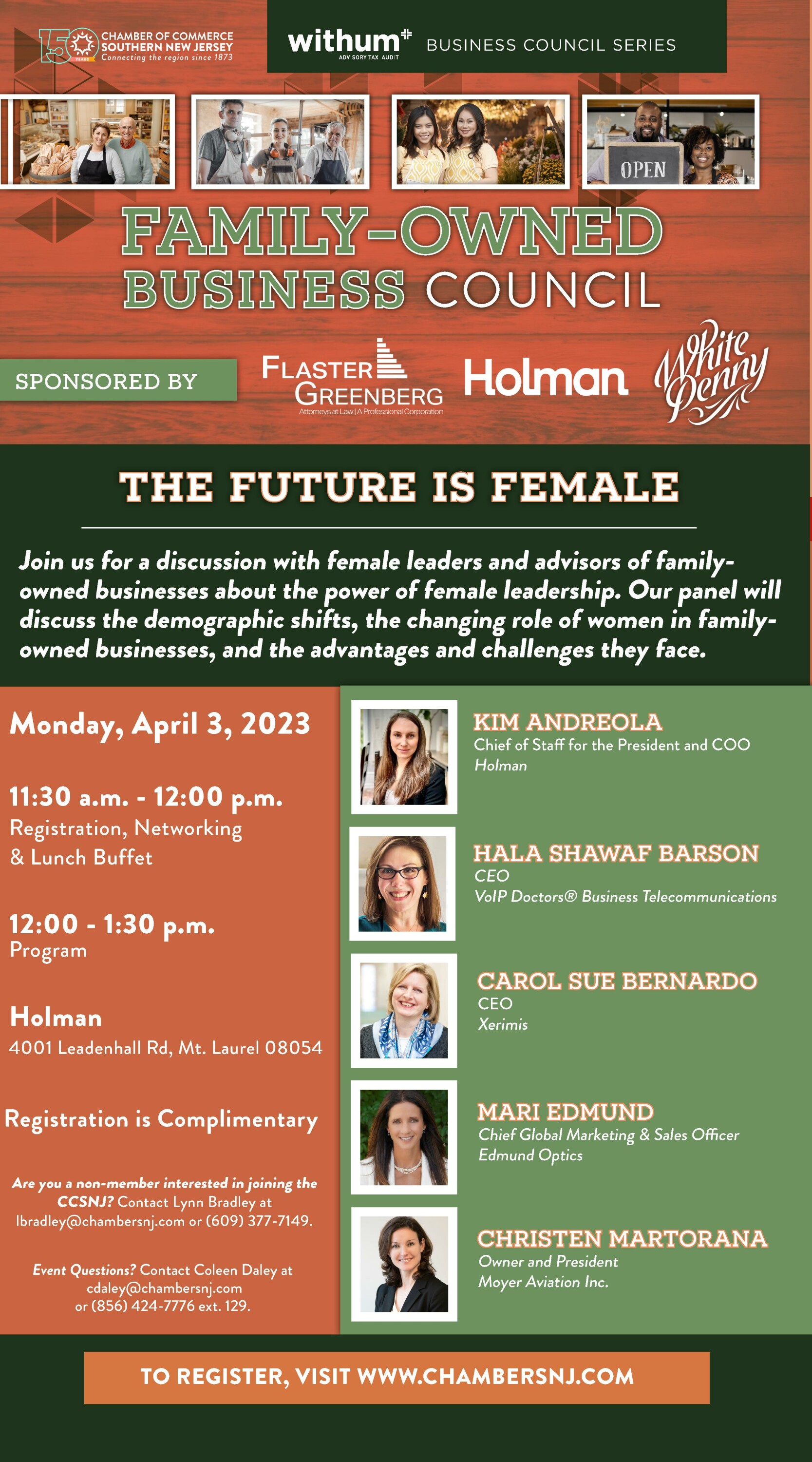 Practice Areas
Industry Groups