In Medium-Sized Company Category According to NJBIZ
| NJBIZ
Click here to view rankings published by NJBIZ on September 29, 2022. Click here to read October 3, 2022 edition.
Read more about why Flaster Greenberg is a Best Place to Work here.
In June 2022, Flaster Greenberg PC was pleased to announce that for the third time, it had been recognized as one the Best Places to Work in the medium-sized company category by NJBiz and Best Companies Group. The awards program identifies, recognizes, and honors the top 125 places of employment in New Jersey that benefit the state's economy, workforce, and businesses by focusing on their employees' growth and quality of life. This recognition was achieved by a direct submission of survey responses from Flaster Greenberg employees to NJBiz.
On Sept. 29, the NJBIZ team gathered at The Event Center at iPA America in Freehold with Garden State employers and employees to reveal the rankings for the Best Places to Work in New Jersey for 2022.
For medium-sized companies (50-249 employees), Flaster Greenberg was ranked 5th out of 49 total companies in this category.
Based in Cherry Hill, with additional offices in Pennsylvania, New York, Delaware and Florida, Flaster Greenberg is celebrating its 50th year in business.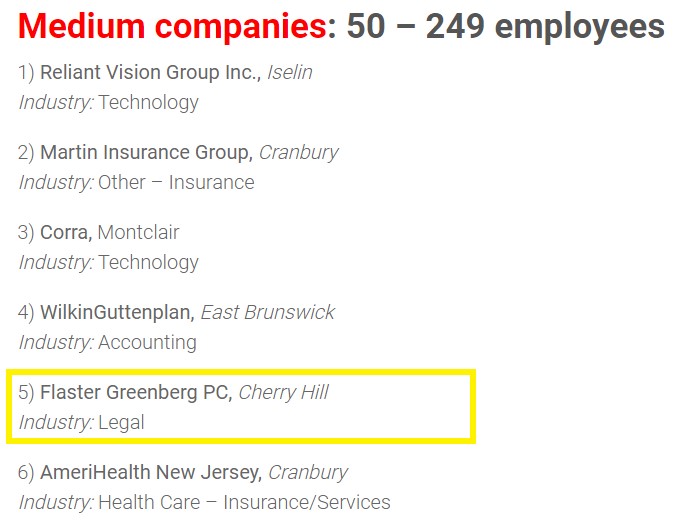 Read More: