| The Courier-Post
Cherry Hill, NJ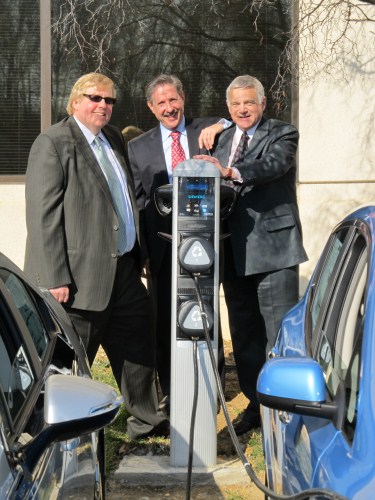 On Monday, February 13, 2012, Flaster Greenberg was featured in an article in the Courier-Post which highlighted the firms newly installed level two electric car charging station. The charging station is a courtesy for clients who drive electric cars – and an incentive for employees to buy environmentally friendly vehicles.
Peter Spirgel, Managing Shareholder and Chief Operating Officer at Flaster Greenberg, was quoted extensively in the article. "You can't have electric cars without visible places to charge them," said Spirgel. "Gas engines wouldn't be viable if we didn't have gas stations."
Flaster Greenberg is the first professional corporation in Cherry Hill to offer an electric vehicle curb-side charging station free to both its employees and clients. The station is self-serve and has the capability to "top off" or fully charge an electric vehicle while the firm's employees are at work or its clients are attending a meeting at the firm.
Pictured above (L-R): Peter Spirgel; Mitch Cohen, Counsel and Co-Chair of the Alternative and Renewable Energy Industry Group; and Frank Riesenburger, Shareholder and Chair of the Environmental Law Practice Group.