NLRB Limits Non-Disparagement and Confidentiality Terms in Employee Severance Agreements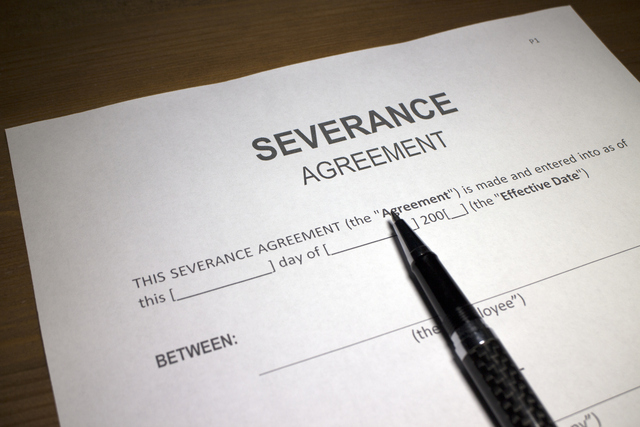 On February 21, 2023, the National Labor Relations Board (NLRB or Board) issued a decision that renders certain non-disparagement and confidentiality provisions in a severance agreement unlawful under Section 8(a)(1). Put another way, the Board ruled that certain non-disparagement and confidentiality terms restrict individuals' Section 7 Rights.
This blog breaks down the NLRB's decision and what it means for employers. Before getting into the details, let's discuss some labor law basics.
What Are Section 7 Rights?
Section 7 of the National Labor Relations Act (NLRA) provides that employees "have the right to self-organization, to form, join, or assist labor organizations to bargain collectively through representatives of their choosing and to engage in other concerted activities for the purpose of collective bargaining or other mutual aid or protection…"
This includes communications about the terms and conditions of employment. The Board reiterated that "discussing the terms and conditions of employment with coworkers lies at the heart of [protected activity]."
What If My Business Is Non-Union?
A common misconception among employers is that the NLRA only applies to organized (unionized) businesses. In other words, if a business is "not union" then the NLRA does not apply to them. That is a grave mistake. The NLRA applies to all businesses regardless of whether there is a union.
What About Supervisors?
Supervisors are not covered under the NLRA, as they are seen as agents of the employer. Thus, this decision does not apply to severance agreements of statutory supervisors. When drafting severance agreements, it is crucial that employers confirm that an employee is in fact a supervisor under the NLRA.
Section 2(11) of the NLRA defines a supervisor. A supervisor is any individual having authority or interest of the employer to: hire, transfer, suspend, lay off, recall, promote, discharge, assign, reward or discipline other employees, or responsibly direct them, adjust a grievance or effectively recommend such action. Additionally, the individual must do so in the interest of the employer. The exercise of the above-listed actions cannot be "merely routine or clerical in nature, but [require] the use of independent judgment."
Prudent employers will evaluate an individual's supervisory position when drafting a severance agreement.
What About Former Employees?
A long-standing principle of Labor Law is that Section 7 rights extend to former employees. This means that terminated employees reviewing and executing severance agreements are protected. Terminated employees are allowed to, among other things, discuss the terms and conditions of their employment, discuss ongoing labor disputes, participate in NLRB investigations, and report Unfair Labor Practices to the Board. After all, this decision specifically applies to severance agreements after an employee has been separated from the company.
Let's jump into the decision. The case involved 11 furloughed employees who were presented with a severance agreement that had a confidentiality provision and a non-disparagement provision. Ultimately, the Board found that the two terms were unlawful under the NLRA.
NON-DISPARAGEMENT PROVISION DEEMED UNLAWFUL
The non-disparagement term at issue prohibited the terminated employee from making, "any statements to [the] Employer's employees or to the general public which could disparage or harm the image of [the] Employer." The Board found the Non-Disparagement term unlawful for 5 reasons:
1. Not Limited to Matters Regarding Past Employment
The Board specifically noted that this provision was (1) "far reaching," and (2) "not even limited to matters regarding past employment with the Respondent."
NOTE FOR EMPLOYERS: This comment by the Board may hint that perhaps employers could include such a prohibition so long as it is limited to matters regarding past employment. Employers should consult with counsel on this potential limitation.
2. Does Not Define Disparagement
The NLRA affords individuals substantial leeway on speech. Individuals are protected when engaging with third parties where the communication is related to an ongoing labor dispute. The communication is protected so long as it is "related to" the Ongoing Labor Dispute and it is not (1) disloyal, (2) reckless or (3) maliciously untrue.
An Ongoing Labor Dispute is "any controversy concerning terms, tenure or conditions of employment." It follows that the negotiation and execution of a severance agreement could be deemed an Ongoing Labor Dispute, along with the circumstances of the separation.
Examples of Protected Communication: (1) Comments related to a labor practice, (2) comments that make reference to wages, hours or working conditions, (3) comments that are linked to the labor dispute.
Communication Not Protected: (1) Attacks on the employer that have no relation to a labor controversy, (2) malicious falsehoods, and (3) personal attacks unrelated to the labor dispute.
NOTE TO EMPLOYERS: Employers can explore including language that employees are prohibited communication that is unrelated to an ongoing labor dispute and is so disloyal, reckless, and maliciously untrue so as to lose the NLRA's protection. Consult with counsel when drafting these terms.
3. Comprehensive Ban That Encompasses Any Labor Issue, Dispute or Term and Condition of Employment
See point 1, above.
NOTE TO EMPLOYERS: It may be worth exploring including disclaimers in severance agreements reiterating that the Non-Disparagement paragraph does not prohibit the individual from making communications related to an ongoing labor dispute. Again, prudent employers should consult with counsel to tailor these terms and expand upon disclaimers.
4. Applies to Statements Toward Employer AND "parents and affiliated entities and their officers, directors, employees, agents and representatives."
The Board found the above language to have a chilling effect on the individual.
NOTE TO EMPLOYERS: Employers may want to strike this from agreements or consider limiting the scope.
5. No Temporal Limitation ("[a]nd all times hereafter…")
NOTE TO EMPLOYERS: Employers may want to limit this language, in addition to adding the above disclaimed language.
Let's take a look at the Board's view of the Confidentiality Provision.
CONFIDENTIALITY PROVISION DEEMED UNLAWFUL
The confidentiality provision at issue was: "[E]mployee agrees not to disclose [the terms of the agreement] to any third person, other than spouse… [or counsel or tax professionals etc.]." The Board found this violative for 3 reasons:
1. Prohibited Disclosure of the Terms of the Agreement to ANY Third Party.
As written, this precludes an individual from filing a Unfair Labor Practice charge with the Board. Even more, it precludes the individual from disclosing the existence of an unlawful provision in the Agreement.
2. Prohibits Discussion with Former Coworkers Who Could Find Themselves in a Similar Predicament When Considering Whether to Accept a Severance Agreement.
As written, this impairs the rights of former coworkers "who find themselves in a similar predicament facing the decision of whether to accept a severance agreement." The Board explains that these current employees are free to discuss their predicament with the separated employee, and the separated employee is free to discuss the terms of their own severance agreement. The Board is clear that the terminated employee is free to talk with former coworkers who are in "comparable circumstances."
NOTE TO EMPLOYERS: This is a major development and shift in the law. The decision does not define a "similar predicament" or "comparable circumstance." It is unclear whether it relates to position or duration of employment. Businesses that include confidentiality terms may want to tweak them to reflect this change in the law.
3. Prohibits Discussion with Union
Such a broad confidentiality term even prohibits the individual from discussing the terms of the agreement with the Union.
NOTE TO EMPLOYERS: Employers should confer with counsel and craft a carefully tailored confidentiality provision. Employers can explore drafting provisions that include disclaimers explicitly stating that such term does not interfere with their rights under Section 7. Businesses can decide the degree of detail to include in such a disclaimer. Again, employers should consult with counsel.
What Do We Do About Agreements Already Drafted And Executed?
Employers should consult with counsel regarding the specifics of each case. It is important to remember that the NLRB held the above terms violative of the NLRA. In other words, the agreements are deemed an Unfair Labor Practice (ULP). If an employee believes that an agreement they signed constitutes a ULP, the employee may file a charge with the NLRB. In the event an ULP is filed, employers would be called to strike or revise the existing terms.
What Do We Do Now?
Prudent employers will re-visit their severance agreements for non-supervisory employees. It is worth remembering that there is no civil liability at the moment- meaning an individual cannot sue over these terms- however the enforceability of some terms will be questioned.
Even more, employers really cannot go after terminated employees for talking with individuals who are currently going through a termination regarding the terms of a severance agreement. These terminated employees can even tell the current employees the amount of their severance.
Employers must remember that the NLRB cannot issue fines or penalties; however, it can shape remedies to make individuals whole. Moving forward, employers should draft employee severance agreements with the expectation that they very well could be discussed with other employees being terminated, or already terminated Before this decision, employers could include terms in their agreements that would prohibit an employee from discussing the terms of their severance agreements.
This is a drastic change, and employers should consult with counsel as they navigate the implications of this decision.
Recent News
|

Law360 Insurance Authority

|

Law360 Insurance Authority

|

Law360 Insurance Authority