August 26, 2013 | Press Release
Posted with permission of the U.S. Air Force, Joint Base McGuire-Dix-Lakehurst
Cherry Hill, NJ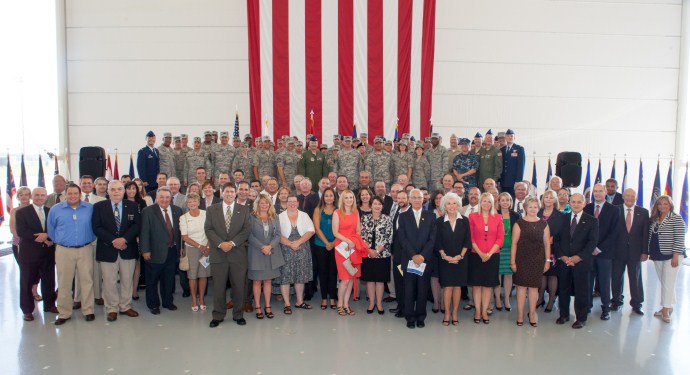 Joint Base McGuire-Dix-Lakehurst (JB MDL) leadership inducted Flaster/Greenberg Shareholder Renee Vidal, along with 93 other Burlington and Ocean County community leaders, into the JB MDL honorary commander program on August 20, 2013. Each honorary commander, pictured above, will serve a year-long term in their new roles.
"I am thrilled to be part of such as wonderful group of local leaders," said Renee Vidal. "Having the opportunity to educate the community on what JB MDL is doing to protect our nation each and every day is something I consider a great honor."
The Joint Base Commander Program provides commanders with an opportunity to engage and educate community leaders on the war-fighting missions based out of JB MDL, while fostering strong community relationships and positive community and base interaction.
"The Honorary Commanders Program provides commanders with a means to effectively educate participants on the Air Force, Army and Navy missions of Joint Base McGuire-Dix-Lakehurst," said Mark T. Szatkowski, Major, United States Air Force and Commander, 305th Maintenance Squadron. "The program increases community and military involvement with installation, mission-partner and civilian activities. It creates open communication between the surrounding communities and commanders by highlighting the joint base's capabilities, future leaders and the caliber of men and women serving at JB MDL. Our program depends on the success of all the participants."
ABOUT JOINT BASE MCGUIRE-DIX-LAKEHURST: Joint Base McGuire-Dix-Lakehurst is America's premier joint war-fighting base. It borders two of the largest counties in New Jersey, Ocean and Burlington. The base is the second largest employer in the State of New Jersey and contributes more than $3 billion in payroll to the economy. Active-duty, reserve and guard service members from the U.S. Air Force, U.S. Army, U.S. Navy, U.S. Marine Corps, and U.S. Coast Guard ensure total force integration by training, supporting, and sustaining installation and global contingency operations. Together, they are uniquely capable of protecting air, land and sea power in support of our nation's defense.