April 19, 2013 | Posted With Permission of South Jersey Online
Cherry Hill, NJ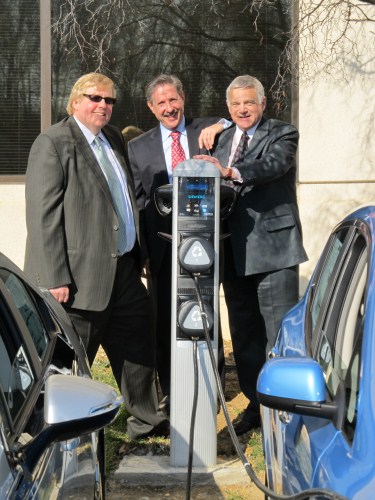 With Earth Day approaching the trend of "going green" is now more prominent than ever. And these days, accessibility to eco-friendly options are everywhere. From recyclable building materials to sustainable groceries, everyone has the chance to help protect the Earth in their own way.
Just look at Peter Spirgel (pictured, far left), the managing chair and chief executive officer of Cherry Hill's Flaster/Greenberg. When he committed to going green he didn't cut corners, recently investing in a Tesla Model S, one of the only fully-electric, zero tailpipe emission luxury cars available on the market today. He's also helped lead the charge in the office, committing to sustainability and installing an electric charging station in the office parking lot, as well as making the permanent switch to eco-friendly cleaning products and office supplies and partnering with Green Technology Recycling to recycle all used electronics. To date, Flaster/Greenberg has recycled 2,873 pounds of electronics.
South Jersey Online spoke with Spirgel about his big-time green buy, and about recycling in offices all over South Jersey.
SJOL: Why did you decide to purchase an electric car?
Peter Spirgel: Initially I thought about purchasing a hybrid but, I'm a numbers guy. The premium of the hybrid never made financial sense to me, despite the fact that I wanted to be environmentally responsible… When I thought about my driving habits it made an electric vehicle seem very usable for me. … The bottom line is I did it because someone had to be an early adopter. Someone had to buy into the electric car. Someone has to say: "I have to take a shot." We have to find a way to wean ourselves off of oil. Electric cars, natural gas, hydrogen powered cars are all being studied and are the way of the future.
SJOL: So why of all electric models did you pick a Tesla?
PS: One night I was discussing it with my son and he said, "You should look at a Tesla," and I said, "What's a Tesla?" At that time, the car wasn't even on the market. I think there may have been a mock up or prototype photo… I owned a luxury car so it seemed like something that intrigued me, frankly. The more I read about it the more comfortable I was with deciding to a take the plunge.
SJOL: How do you feel about it now that you've owned it for a little bit of time?
PS: I have owned this car for little over 6 months and I have absolutely no problems… It is much more efficient. It's not flammable. Then when you factor in the battery, the car is even better. The ride is much smoother and reduces wind resistance. It's also a much better design than other cars. You know that big booklet you get with your car that no one reads? Well I received a pamphlet. It was much less intimidating. Better yet, my car updates itself, overnight via the Internet.
SJOL: You're one of the few offices in South Jersey to have an actual electric car charging station. Is that open to the public?
PS: Yes it is, it is even on the ChargePoint network. You just tap a charge card on the machine and you start charging. We've had people park, charge, and walk over to the local restaurant while the car was charging. As far as I know, we are the first employer in the area to offer our employees and clients to charge for free.
SJOL: Do you think South Jersey will see more charging stations soon?
PS: It's happening out there already; It's surprising how many charging stations actually exist. If you look at Philadelphia, most of the parking garages put them in already. Anybody who is communing in the Philadelphia area has option that are literally expanding monthly.
SJOL: And you're not the only person at Flaster/Greenberg going green. How is the firm making an effort to be eco-friendly?
PS: You can't just talk the talk. You have to follow through with actions. When we redid our office we tried to be more environmentally conscientious. Even with the products we use. Each decision you make can influence behavior. We changed the types of cups we have in our kitchen because the Styrofoam cups are less environmentally friendly, so our cups are now paper. We noticed that people in the office didn't always shut off the lights. So we installed remote sponsored lights.
SJOL: Was it hard to make the adjustment for the entire office?
PS: If companies start doing it will become second nature to people. Now we recycle at home and don't think about it. Twenty years ago people would have looked at you like you were crazy. Now the next generation will know solar energy like the back of their hand. Now when our office throws away our electronic materials we have a company get rid of it for us. We thought it was important to not let things rot in landfills. All these things add up to reduce our footprint on the environment.
SJOL: With Earth Day around the corner, what are your next big plans?
PS: We are trying to go paperless. We are encouraging our attorneys to save documents electronically other than in a file cabinet. As the Chair for the law firm you I see that I am having a good experience with electric cars. I'm hoping over time we'll have more and more people choosing a better way, a more eco-friendly way, to get to work. When you work in the suburbs you don't have many mass transit options. We have 100 cars driving here, so you know were trying to be more responsible.

x
flaster-media/NBC%2010%20Clip/NBC%2010%20Clip.mp4
Industry Groups