January 28, 2013 | Posted With Permission of PlugInCars.com and Jim Motavalli
On January 25, 2013, Flaster/Greenberg's Managing Shareholder Peter Spirgel was featured on PlugInCars.com in the article "A Passionate Love Affair: Tesla Model S Owners and Their Cars." He was tapped by world renowned environmental reporter Jim Motavalli for commentary on his recent purchase of the Tesla Model S, an all-electric, zero-emission vehicle that was recently named the 2013 Motor Trend Car of the Year. In the article, Peter explains the reasoning behind his purchase:
Peter Spirgel, a New Jersey-based lawyer at Flaster/Greenberg (which offers free curbside charging to its employees and clients), traded in a 2001 Mercedes S500 for a Model S Signature edition after some prodding from his 20-year-old son. "I had never heard of Tesla, but after reading about the Model S on the company's website I was intrigued. I decided to go all in and reserve one of the first cars, realizing that I was betting more than I ever had on a new company and a new technology. We need more companies like Tesla in America."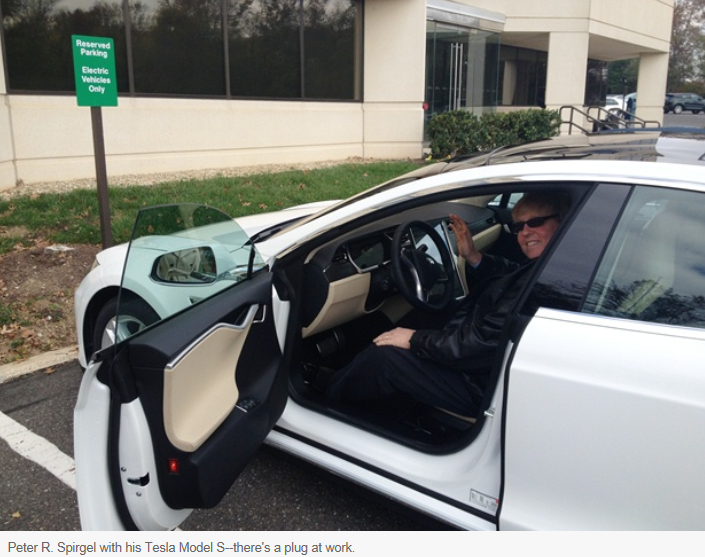 Three months in, Spirgel (who's been profiled in the Philadelphia Inquirer with his Model S) says he's "had no issues whatsoever and I simply love the car. I don't regret my decision and I'm rooting for Tesla and other electric carmakers to succeed. Every day I plug it in to a 220-volt outlet in my garage and each morning I leave for work with a full tank. The range—realistically, 275 miles—is more than enough to eliminate range anxiety on all but the longest trips." Sprigel has taken the car to Washington, D.C.—170 miles each way—and arrived in the city with 80 miles left and plentiful options for charging.
ABOUT THE AUTHOR:
JIM MOTAVALLI is a journalist, professional blogger, author and radio personality who lives in Fairfield, Conn. He's a regular contributor to The New York Times and has a weekly syndicated "Wheels" column. He has written several books with environmental themes, including Forward Drive: The Race to Build "Clean Cars" for the Future.

x
flaster-media/NBC%2010%20Clip/NBC%2010%20Clip.mp4
Industry Groups