UN Habitat, FIABCI-USA, The International Real Estate Federation, Bank of America
October 1, 2018
For more information or to register, click here.
FG shareholder Mark Roderick will be speaking at The Affordable Metropolis Series, Part 2 - A Global Dialogue on Affordable Housing: Policy, Finance, Technology & Sheltering on October 1st in New York, NY. This event is offered as part of the 2018 UN World Habitat Day, where a collection of experts will explore how governments, the business sector, citizens, and others respond to the challenges of providing sustainable livelihoods. This same Dialogue will take place on October 1st in cities around the world, including Paris, Jakarta, Barcelona, Taiching, and Honolulu in support of U.N. World Habitat Day in an effort to solidify solutions that can help to achieve more affordable housing around the globe.
Speakers
Dr. Branka Branislava Saveljic-Balac, Chair of the UN Committee on Human Settlements
John Banks, President of REBNY ( the Real Estate Board of New York)
Ron Moelis, CEO and Co-Founder of L+M Development Partners
RuthAnne Visnauskas, Commissioner/CEO of the New York State Division of Housing and Community Renewal

Mark Roderick, Crowdfunding Attorney - Flaster Greenberg
Richard Koss, Cheif Reseach Officer at Recursion Co
Bob Donovan, Senior VP of Bank of America Home Loans
Lisa Schwert, Associate Principal SHoP Architects
Judith Hermanson, President and CEO IHC Global (International Housing Coalition)
Agenda
Policies (municipal, metropolitan, regional and national) encouraging construction and renovation of affordable housing

Finance: public-private partnerships, international financing, crowdfunding, coins, etc.

Technologies and materials enabling cheaper and/or faster construction

Quick housing and shelters for homeless, transient, migrants, slum populations, natural disaster victims
Date and Time
Monday, October 1, 2018
6:00 p.m. - 8:00 p.m.
Location
Bank of America Tower
1 Bryant Park
New York, NJ 10036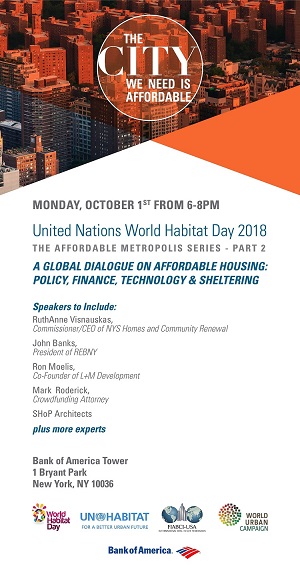 Practice Areas